A Recipe to pair with LaStella's Espressivo by Chef Vish
Written by Chef Vish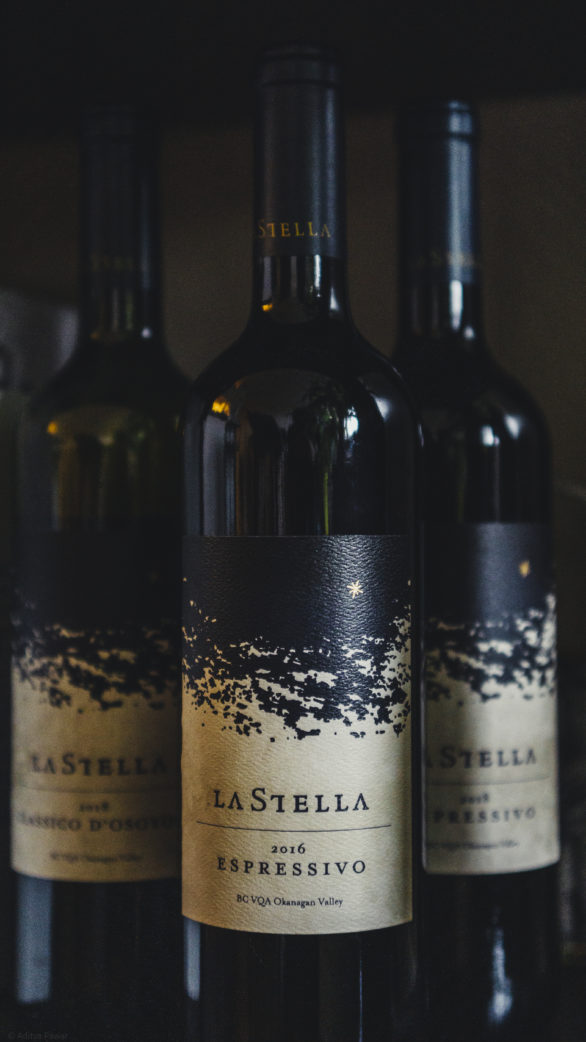 Saffron Risotto with Local-Foraged Chanterelle Mushrooms
For the Risotto Stock
Shallots 2 each
Garlic 4-5 cloves
Bay leaf 2 each
Saffron 3gms
Carrot 1 each
Celery 1 each
Mushrooms (Shitake) 50gms
Oli
Water 2L
In a pot add 10ml oil and saute chopped shallots, garlic, carrots, celery and mushrooms. Do not let it brown. Light saute until all the vegetables start sweating. This should take 6-8 minutes. Add the bay leaf and saffron stir and add water. Let it simmer for a couple hours until you have about 50% of the liquid remaining. Strain and hold warm.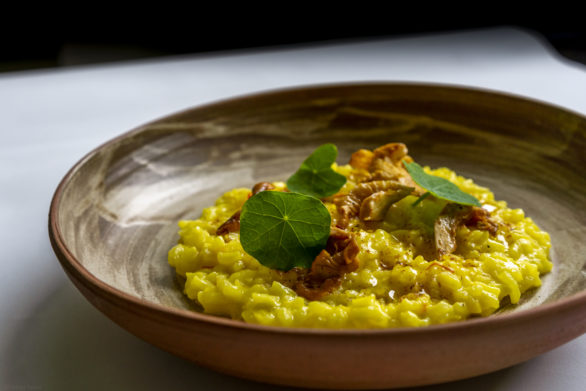 For the Risotto
Arborio Rice 150gms
Risotto Stock 500ml
Butter 30gms
Saffron 1gm
Pecorino Cheese 30gms
Shallots 1 each
Garlic 4 cloves
Olive oil 20ml
Salt
Fine chop the shallots and in a deep pan, add butter and sweat the shallots on medium heat for 5 minutes until it becomes translucent. Do not brown the shallots. Add chopped garlic and saute for another 2 minutes on medium to low heat.
Add arborio rice and toast it for 2 minutes adding a little bit of the olive oil.
Once toasted slowly start adding the stock and using a wooden spoon keep stirring the rice. Add about 30-40ml at a time. Once the stock reduces to half add another 30-40ml and keep repeating this process until most of the stock is used up and the rice is cooked al dente. Fold in 1 gm of saffron and add 15gm of butter and pecorino cheese and mix it in to achieve a nice runny yet smooth consistency of the risotto. Adjust the seasoning. If you run out of stock use hot water.
The rice should not be crunchy but should have a bit and the consistency shouldn't be soupy but also shouldn't be too dry.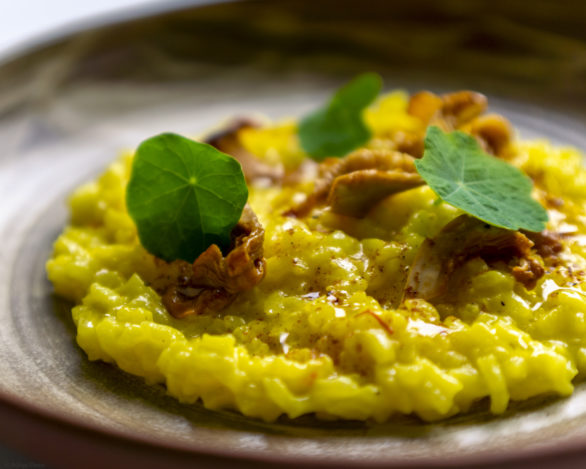 For the Chanterelles 
Chanterelles 100gms
Garlic 2 cloves
Salt and Pepper
Olive oil 10ml
Butter 20gm
Parsley 4gms
In a pan heat oil and butter and sweat some fine chopped garlic. Add mushrooms and saute until they start losing its water and get some colour on them. Do not over cook them. This process shouldn't take longer than 6-8 minutes.
Add salt and pepper and fold in some chopped parsley.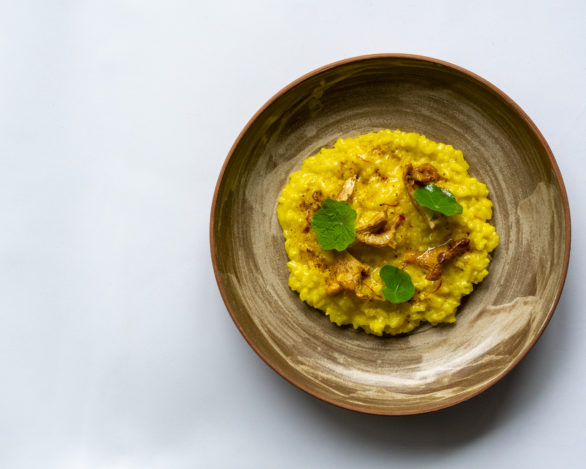 To assemble
In a deep dish or bowl, place warm risotto in the centre and top with sauteed mushrooms. Garnish with pecorino or grana padano and chopped parsley.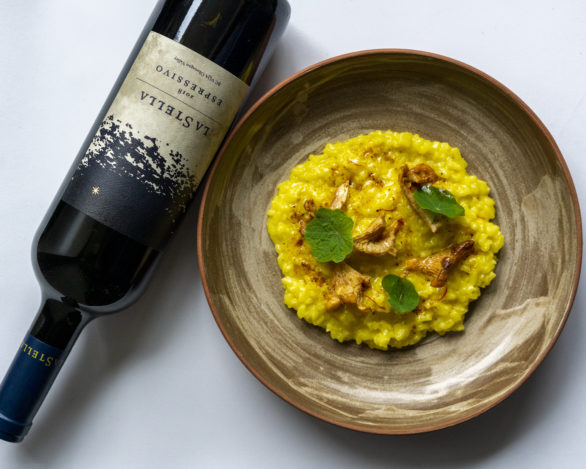 The creaminess and earthiness of this dish work incredibly with Espressivo and creates this balance of flavours and the experience of going back and forth between the food and wine.