"The art of tasting wine" is often a topic that is accompanied by the single notion that one must have a refined and "mature" palate in order to appreciate wine as an art. Now, what exactly does this mean? Does it mean you have to spend years tasting renowned wines from famous wineries? Or that you must have advanced knowledge and experience on how to critique wine?
Absolutely not!
I'd like to challenge this pretentious notion and share my secrets on how you can very quickly learn to appreciate wine as an art by simply training your senses!
That's right – the art of tasting wine is about building the muscle memory of your senses – no hardcore experience necessary! Now I'm not discrediting the wine experts around the world who have worked tirelessly to achieve their level of experience in the wine world. But I do believe it is important, and part of our responsibility as wine professionals is to help make the art of tasting wine more approachable to anyone willing to learn.
Let's take a little dive into the steps you can take to build your sensory muscle memory to enjoy wine as an art.
What You Need
About 6 – 10 wines. It is not absolutely necessary to purchase this many wines all at once, so you can opt for comparing a couple of bottles at a time. I recommend trying at least 6 wines because it provides an ideal opportunity for your senses to compare and contract lots of variety. The more diversity you select, the stronger and more versatile your senses will become!
Lots of wine glasses. It's a good idea to have multiple wine glasses so you can experiment with your senses by using side by side comparisons. Your muscle memory requires a lot of repetition, so go ahead and line 'em up! We encourage multiple sip situations.
Aromas. Collect some elements that you can use to compare and contrast what you are smelling and tasting in the wine. You can purchase fresh ingredients or you can purchase an aroma kit which typically contains the essential aromas found in wines. Ultimately, you want to select aromas that may be written in the tasting notes on the wine bottles you've selected. If there are no tasting notes on the bottle – just head on over to Good Ol' Reliable Google! Search up the grape varietal you're interested in tasting and you will be bound to find some information about what that grape varietal or wine blend should smell and taste like.
Aroma Suggestions
Now if you're thinking about going ALL in and really becoming a self-trained master of all wines, I've compiled an extensive list of aroma suggestions that will help you take on any wine you select for this journey.
Floral: acadia, honeysuckle, chamomile, elderflower, geranium, blossom, rose, violet
Green Fruit: apple, gooseberry, pear, quince, grape
Citrus Fruit: grapefruit, lemon, lime, orange
Stone Fruit: peach, apricot, nectarine
Tropical Fruit: banana, lychee, mango, melon, passion fruit, pineapple
Red Fruit: redcurrant, cranberry, raspberry, strawberry, red cherry, red plum
Black Fruit: blackcurrant, blackberry, bramble, blueberry, black cherry, black plum
Dried/Cooked Fruit: fig, prune, raisin, sultana, kirsch, jam, baked/stewed fruits, preserved fruits
Herbaceous: green bell pepper, grass, tomato leaf, asparagus, blackcurrant leaf, rosemary, thyme, sage
Herbal: eucalyptus, mint, lavender, fennel, dill
Spice: black / white pepper, liquorice, baking spices, vanilla, cloves, nutmeg
Other: flint, kerosene, wet stones, graphite, petrol, coffee, chocolate, butterscotch, smoke, cedar, toast, bread, mushroom, tobacco, honey, ginger, butter
What You Do
Invite over your favourite wine pals to pop some bottles. The art of tasting wine should not be attempted alone! Each person has a unique palate and preference. The best way to build your sensory muscle memory is by sharing what you experience with others. Sometimes you just don't realize what you are smelling or tasting until someone else says it out loud. More wine pals, the better!
Pro Tip: Subscribe to winery newsletters and local event associations so you can stay in the know about any upcoming wine related events! You can also join an online wine community through Facebook where wine enthusiasts from all levels share their insights and reviews on wines. These groups are often known to organize wine-related meet-ups at wineries or restaurants. Join in on the fun!
Swirl, Smell, Sip! Start experimenting with the different wines and elements. If a specific wine should have a specific aroma, go ahead and smell that particular element before smelling the wine. You will start noticing how the aromas in the wine will begin to appear much more distinct after smelling the matching the elements.
Pro Tip: If you cover your glass and swirl the wine, the aromas become trapped in the glass and will be much more pronounced when you go in for a smell! You also want to keep your mouth open a bit because it will help you perceive aromas. Some individuals even go as far as holding one nostril closed and smelling with the other as one nostril may be more sensitive to aromas at that time compared to the other.
Invite the mystery. Another great way to learn to identify aromas and tastes is to smell or taste the elements with a blindfold on! If you can start recognizing aromas and flavours without having to look at the element itself, you will be well on your way to becoming a Wine Jedi!
Pro Tip: Start announcing or writing down everything that comes to mind when you are trying to recognize the aromas. For example, some wine aromas may remind you of specific chewy candies. You may discover that you are associating the aroma with the candy's specific fruit aroma such as "peach" or "cherry". Always go with your gut feeling! You will be surprised at how well you actually pick up on aromas when you just take the pressure off of being right and just focus on expressing whatever comes to mind!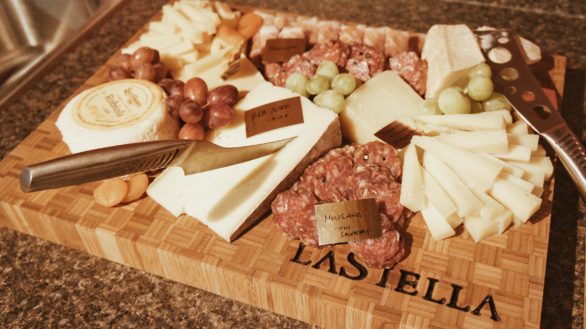 Hydrate and Cleanse the palate! Be sure to drink lots of water and keep the wine-friendly snacks flowing. In particular, salt-free crackers, chips, and bread are excellent palate cleansers to keep on hand when trying multiple wines.
Pro Tip: Organizing a charcuterie board with various fruits, nuts, cheeses, meats, bread, and crackers is always a good idea because it covers the ground for so many different wine pairings with relative ease. Always keep it simple, the main focus should be the wine aromas.
Now we've given you all the insights on how to pick up on various aromas in wine. Some aromas that should also be kept in mind are wine faults. If you smell anything reminiscent of wet newspaper, wet dog, damp cardboard, bleach, or an old rag, your wine bottle is most likely corked! We could go into a lengthy discussion on wine faults (there are many), but we will leave that topic for another time.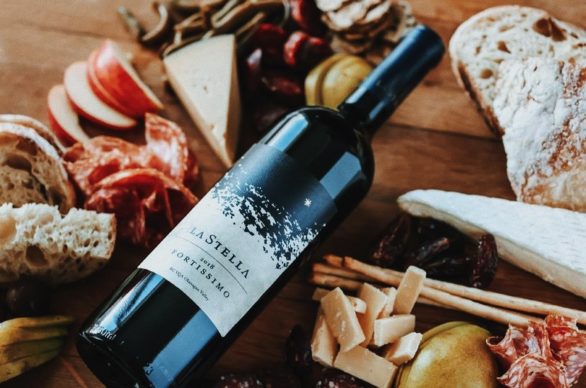 Wine Suggestion
A great wine to try for a blind tasting experience from La Stella is the Fortissimo. This wine is Merlot dominant and has been blended with Cabernet Sauvignon, Cabernet Franc, and Sangiovese. Fortissimo is our way of paying respect to the pioneers of Tuscany who challenged the traditions of winemaking in the 50s and 60s to gain recognition for their wines. 2019 Fortissimo saw a gentler extract due to the nature of the growing season and as such, even upon release is as charming and "ready" to drink as we thought it would be. All the components are married seamlessly together already. The large format puncheons and Hungarian/Slavonian oak are evident in the subtle way the oak is present. Overall the wine has fantastic layers of fruit and savoury flavours. The particular elements that are present in this wine that you can work on identifying include the following:
Violets
Plum
Prune
Candied Cherry
Black Forest Cake
Blackcurrant
Blackberry
Vanilla
Fig
Cedar
Dark Chocolate
Now that you've dipped your feet in the "art of tasting wine", it's time to start building a wine journal. The most important thing about wine at the end of the day is that you like what you are drinking! Start writing down the wines you enjoyed, why you enjoyed them, what food you paired with the wines, what time of the day it was, and who you shared your wines with. All of these subjective components together add to the experience and the overall sense of enjoyment. Continue to recreate these moments and you will have what I like to call – a Wine Wikipedia!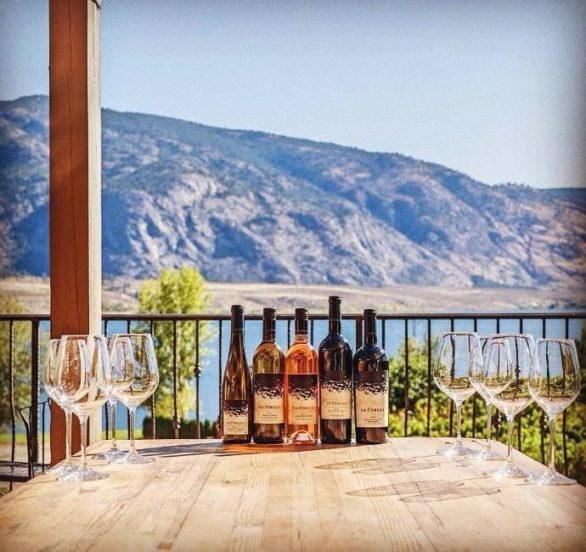 To know thyself is to know how to choose delicious wines.
Written by Neelam Dhaliwal, Intern @ LaStella