Enjoy this Wine & Food Pairing from Severine (our Winemaker):
Wine – Leggiero (un-oaked Chardonnay) light and crispy, with lots of citrus in the nose and in the mouth, with still some creaminess due to the fine lees elevage in the tank.
Food – Steamed white cod and sauteed vegetables such as carrots, panais (parsnip), and zucchini.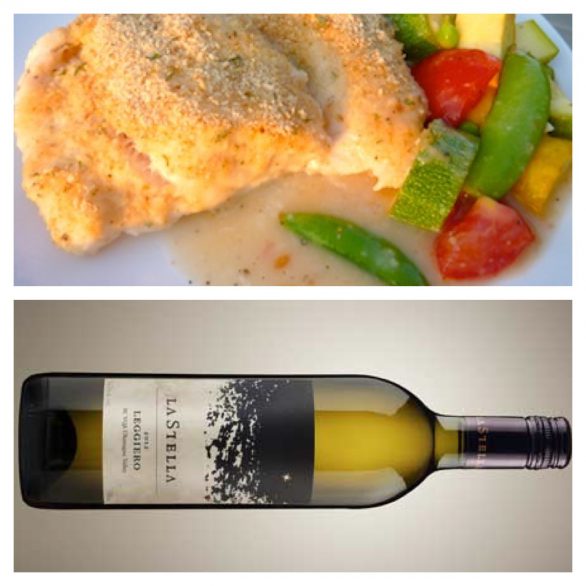 Recipe courtesy of Food & Wine.
Steamed Cod with Crisp Vegetables 
Ingredients
16 thin asparagus, halved crosswise
1/4 pound snow peas
1 small zucchini, quartered lengthwise and sliced 1/4 inch thick
1 small red bell pepper, thinly sliced
1/2 cup chopped mixed herbs, such as tarragon, chives and parsley
Kosher salt and freshly ground pepper
Four 6-ounce cod fillets
1/4 cup dry white wine
2 tablespoons unsalted butter
In a large pot fitted with 2 stackable steamer baskets or in 2 pots each fitted with a steamer basket, bring 1 inch of water to a boil. Tear off four 15-inch-long sheets of foil. Mound one-fourth of the vegetables in the center of each sheet. Sprinkle the vegetables with the herbs and season with salt and pepper. Set a cod fillet on each mound of vegetables and season with salt and pepper. Top each with 1 tablespoon of wine and 1/2 tablespoon of butter. Fold up the foil edges and seal.
Transfer the packages to the steamer baskets. Cover and steam for 15 minutes. Transfer the packages to a large rimmed platter and let rest for 5 minutes. Open the packages carefully, slide the fish and vegetables along with any juices onto plates and serve.