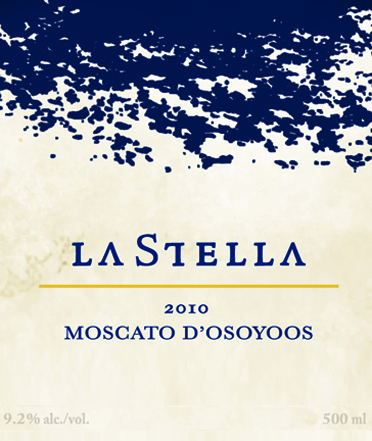 2010 Moscato d'Osoyoos
Inspired by the renowned Moscato d'Asti of the Piedmont region in Italy, our version expresses an intense and complex array of aromatics complementing this grape's true varietal expression. The light effervescence adds to the texture of this wine while showcasing the classic Moscato flavours and pefume: orange blossom, peach rind, rose petal and melon. With around 9%Alc./Vol. this is a perfect aperitif, dessert or brunch wine.
Di Carne
With under 10% alc./vol. our moscato is a perfect aperitif, brunch or dessert wine. It can be enjoyed with a cheese board or a lightly spiced green fish curry well.

Vegetariano / Vegano
A bowl of lightly spiced vegetarian green curry or cajun-marinated tempeh.

Spec sheets for other vintages
Slideshow Items
90

Light in alcohol at 9% and finished with slight effervescence, this wine begins with attractive floral aromas and has spicy fruit flavours, with a refreshing tang on the finish.