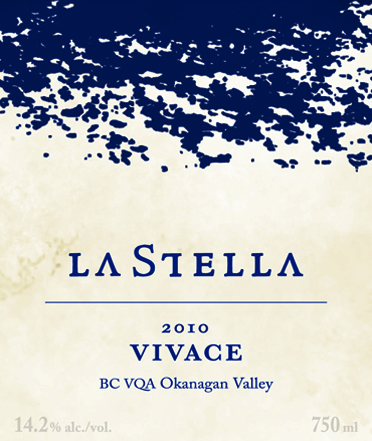 2010 Vivace
Our Pinot Grigio greets you with a very expressive nose that speaks of citrus and pear aromas. The palate is packed with flavours of fruit cocktail that enters the mouth in a soft and round fashion but opens into bright citrus, apple and onto a long Asian pear finish.
Di Carne

Seared West Coast Halibut with a Brown Butter Lemon Thyme Sauce or Roasted Chicken on the Crown with Pan Drippings and Side Garden Vegetables or Salish Mussels steamed in a Light White Wine, Lemongrass and Ginger broth are favourite pairings.

Vegetariano / Vegana

A variety of Roasted Vegetables with pistachio Kale Pesto Sauce or a Bright Baby Greens Salad with Roasted Nuts and Fresh Berries.

Spec sheets for other vintages
Slideshow Items
This is a Pinot Grigio that nails the Italian style precisely. The wine is light and fruity with aromas and flavors of citrus and fresh pears.