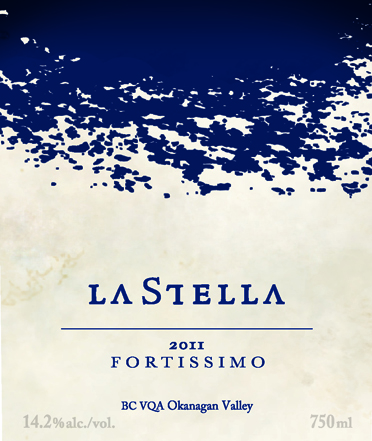 2011 Fortissimo
Fortissimo is our way of paying respect to the pioneers of Tuscany who challenged the traditions of winemaking in the 50s and 60s to gain recognition for their wines.
The 2011 Fortissimo sees the most percentage of Merlot in the blend since the inaugural release of this label in 2007. This was necesary to make a wine that is charming upon release and captures the spirit of the vintage: forward and inviting. Now in bottle for a few month, 2011 Fortissimo is as outstanding as we thought it would be; all the components are married seamlessly together. The large format puncheons and Hungarian/Slavonian oak are evident in the subtle way the oak is present. Overall the wine has fantastic layers of flavour and nuances. One built for current drinking as well as aging in the cellar with a medium+ life ahead.
Di Carne
Braised veal shank, osso bucco or Tuscan roast lamb with a rosemary crust.

Vegetariano / Vegano
Hearty braised vegetable stew or sweet potato & mushroom cannelloni.

Spec sheets for other vintages
Slideshow Items
92 points

This is a Merlot-dominant blend, with additions of Cabernet Sauvignon, Cabernet Franc and Sangiovese. At first tight, spicy and herbal, it then blossoms with dark, deep juicy black fruits. The finish is long and trim, bringing in more complexity, with coffee, cassis and espresso. Drink now through 2025. Cellar Selection.

90 points

This powerful, gritty red blends merlot (71%) cabernet sauvignon, cab franc and a dash of sangiovese. It has an intense, very Italian, bouquet of currants, cedar, herbs, pepper and graphite. It's full bodied, intense, firm and sour edged – a bit of a bull – but packed with flavour and all kinds of tannic grit. The length is excellent. Fortissimo as advertised. You will need to open this some brooding winter night with a rich pasta dish. Best 2016 to 2020. Tasted August 2014

On the nose, there's a perfumey Lilac, winter spices, especially cinnamon, and a hint of smokiness.

On the palate, cherry and raspberry mingle with blackberry, and earthy, dusty flavors that are such a welcome component in North American wine.

The tannins are amazing, dancing on the front of your tongue, powerful without being overbearing. There's a dryness that is so rustic and old world that one can't help but think of the rolling hills and olive tree gardens (had to be careful there to add the 'tree').

With old world style, Fortissimo and food go hand in hand. After tasting solo, we paired with beef off the grill, and the results were mouthwatering to say the least. Classic red meat dishes pair well. The next time you're thinking of Chianti in Canada, why not think closer to home, Fortissimo.

90-91 points

Sweet, warm and feminine on the nose, LaStella's ode to establishment-challenging Tuscan wines is a blend of 71% Merlot, 22% Cabernet Sauvignon, 6% Cabernet Franc and 5% Sangiovese. The sweetness comes from ripe red fruit and fragrant oak aromas that put a smile on your face instantly, setting the stage for the dry palate to follow with similar fruit and oak flavours and added complexity from coffee grind, tapenande and light mineral notes. Fine, smooth tannins and mouth-watering acidity structure the wine well and will help it age and improve over the next 2-3 years. Be sure to decant properly for 2+ hours if you plan to open a bottle this year. Drink 2015-2018.

91

This is the winery's Tuscan inspired red. The blend is 71% Merlot, 22% Cabernet Sauvignon, 6% Cabernet Franc and 5% Sangiovese. It has the "dusty" aroma and dry finish that recalls good Chianti. It has aromas and flavours of cherry, cranberry and red currant. Aged in Slovenian oak, this wine has been finished with a rustic elegance that really does echo Tuscany.