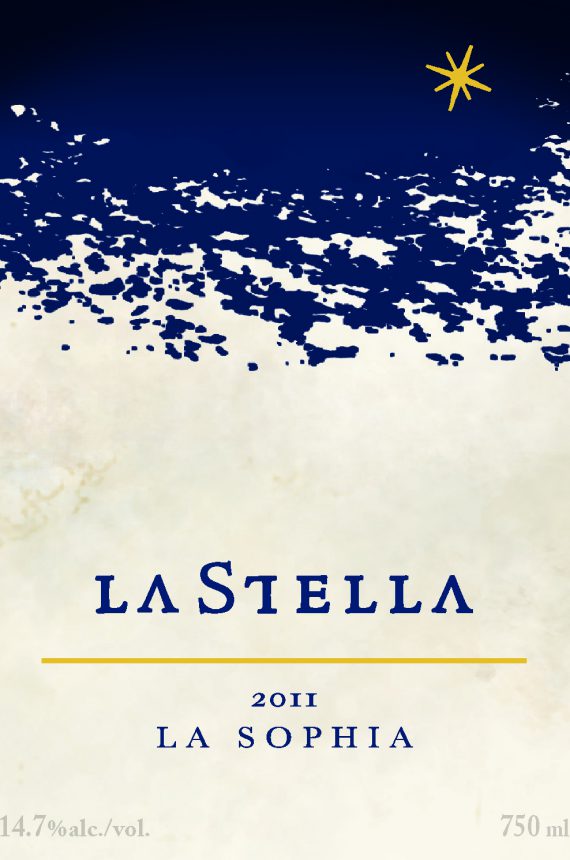 2011 La Sophia Cabernet Sauvignon
La Sophia is akin to the great examples of Cabernet Sauvignon from the coastal areas of Tuscany: Maremma and Bolgheri. Similarly La Sophia draws comparison to legendary cabernets from Washington State rather than the plusher and fatter examples from Napa Valley.
La Sophia presents a great nose of cassis and cigar box mixed with pain grille and smoked prosciutto. On the palate there is great weight, firm and present tannins with balanced levels of acidity.
Di Carne
The higher acidity and firmer tannins in this wine than our merlots benefit from pairing with fattier cuts of meat and from dishes that are higher in acidity. Pistachio-crusted lamb rack or a New York steak perfectly grilled are clear winners too.

Vegetariano / Vegano
Braised broccoli stems, lemon cashew puree and toasted almonds is a vegetarian or vegan course that helps offer the fattiness and acidity that this wine requires.
Slideshow Items
95 points

This is 100% Cabernet Sauvignon from 26-year-old vines at the U2 block at Inkameep Vineyards. This is a legendary block from which numerous outstanding Cabernet Sauvignon wines have been made by various producers. These mature vines produced fruit, even in a cooler year, which yielded 14.7% alcohol and ripe flavours. The wine has aromas of cassis and vanilla. The texture is almost dense, with flavours of black currants, prune, minerals, spice and tobacco. This is clearly a wine for cellaring or, if you want to open it now, for aggressive decanting.

La Sophia, 100% Cabernet Sauvignon from 26 year old vines, some of the oldest in the Okanagan valley. The 2011 vintage, such a departure from the 2009 when I last tasted the La Sophia, comes from the atypically cool 2011 vintage, which did not bring with it the daytime heat the valley can be known for.

As should be for a wine from the Pacific Northwest, it is kindred to the Cabs of Washington State rather than the more plump and decadent Cabs of California. A classic Cab, this wine presents notes of black currants, green pepper, and cigar box best coaxed out by decanting if opened soon. The tannins? They'll grab you and throw you to the mat. And that's just it – you can't rush Sophia. Like her namesake, Sophia Loren, she's fiery and will have her way with you in her younger years, though she'll age gracefully, there's no doubt about that. Give her time – maybe even a decade – and ooh-la-la, she's a beauty to behold!