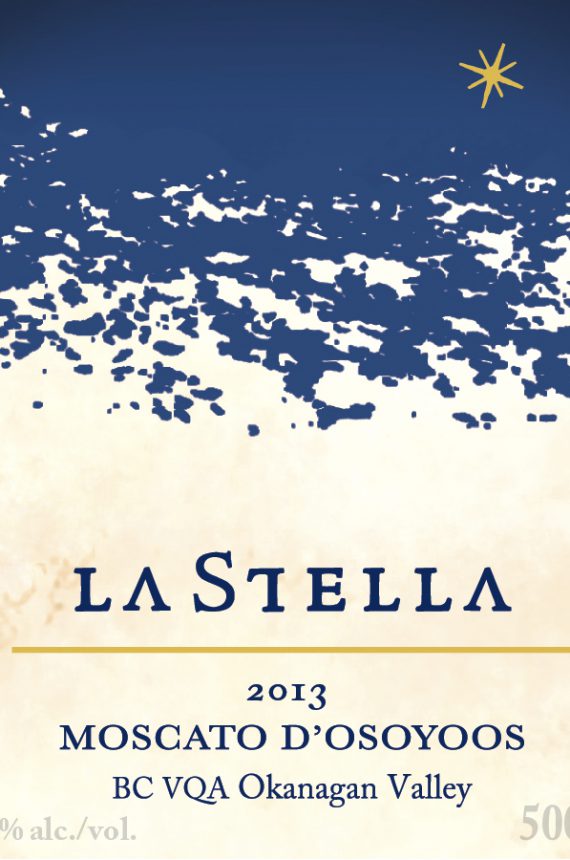 2013 Moscato d'Osoyoos
2013 is a tale of two vintages in the same year. Dry and warm autumn is almost a sure thing in our region. 2013 was a rare exception. We had an unusual string of rainy days in the middle of harvest in mid September. The characteristic of the wines is as such dependent on if the grapes were picked before or after the rainy period. Wines made from grapes harvested before the rain virtually needed no sorting as they showed clean and robust flavors of a dry growing season with plenty of very hot days. The rain was a double edge sword though and a blessing in disguise if you will. On one hand it provided an opportunity for the vines to continue pushing forward for better sugar/acid balance and greater phenolic maturity but on the other hand it meant the arrival of rot (need for extensive sorting) and flavor dilution in less than ideal sites (not to worry we have no mediocre parcels). Sorting was the key word along with when the fruit was harvested and in which site it was grown. Buyers of Okanagan wines in general are best to shop by producer and well-known sites for their quick draining soil make up, air flow and exposure. Taste before you buy is our recommendation in general but in particular for 2013.
Inspired by the renowned Moscato d'Asti of the Piedmont region in Italy the Moscato d'Osoyoos expresses an intense and complex array of aromatics displaying this grape's true varietal expression. The light effervescence adds to the texture of this wine and showcases the classic Moscato flavours and perfumes of orange blossom, peach rind, rose petal and melon. With under 10% Alc./Vol. this is a perfect aperitif, dessert or brunch wine.
Di Carne
With under 10% alc./vol. our moscato is a perfect aperitif, brunch or dessert wine. It can be enjoyed with a cheese board or a lightly spiced green fish curry well.

Vegetariano / Vegano
A bowl of lightly spiced vegetarian green curry or cajun-marinated tempeh.

Spec sheets for other vintages
Slideshow Items
92 points

This irresistible, lightly frizzante and utterly refreshing wine is a gem. Orange flesh and rind has a slightly candied potency, with outstanding purity, focus and length. In spite of the sweetness, it retains offsetting mineralogy and acidity, making it a perfect apéritif or brunch wine. Editors' Choice.

89 points

La Stella takes its moscato cues from Piedmont's famed d'Asti region and in the case of the 2013 you would have to blink twice to be sure this Moscato d'Osoyoos isn't in fact Moscato d'Asti. Light and airy, floral and riddle with orange and apricot fruit it is an impressive bottle of frizzante moscato. Light and expressive despite its eight percent alcohol it is a perfect pre-dinner pour or serve it with cakes and fresh fruit.

This light and merry sparkler bursts with aromatics of peach nectar and red currant, but on the palate it's all fruit cocktail with fresh slices of Bartlett pear thrown into the mix. At first sip, you'll think it's rather sweet, but as you continue on, you'll note its lively acidity and find yourself reaching for more. Made from a couple Muscat varieties sourced around the Okanagan, never mind waiting until dessert – enjoy it with Thai or Indian curries instead.