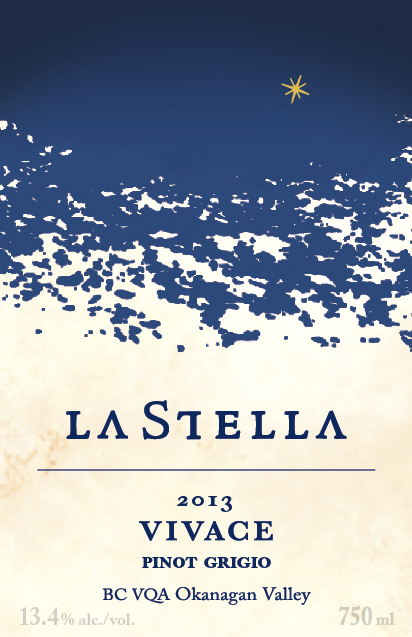 2013 Vivace Pinot Grigio
2013 is a tale of two vintages in the same year. Dry and warm autumn is almost a sure thing in our region. 2013 was a rare exception. We had an unusual string of rainy days in the middle of harvest in mid September. The characteristic of the wines is as such dependent on if the grapes were picked before or after the rainy period. Wines made from grapes harvested before the rain virtually needed no sorting as they showed clean and robust flavors of a dry growing season with plenty of very hot days. The rain was a double edge sword though and a blessing in disguise if you will. On one hand it provided an opportunity for the vines to continue pushing forward for better sugar/acid balance and greater phenolic maturity but on the other hand it meant the arrival of rot (need for extensive sorting) and flavor dilution in less than ideal sites (not to worry we have no mediocre parcels). Sorting was the key word along with when the fruit was harvested and in which site it was grown. Buyers of Okanagan wines in general are best to shop by producer and well-known sites for their quick draining soil make up. Taste before you buy is our recommendation in general but in particular for 2013.
Our 2013 Pinot Grigio greets you with a very expressive nose of Asian pear aromas, mountain herbs and lime zest. The palate is packed with fruit cocktail flavours that enter the mouth in a soft and round fashion before they blossom into bright citrus and golden delicious apple notes. The long finish carries on with intense ripe citrus rind notes.
Di Carne
Seared west coast halibut with a brown butter lemon thyme sauce or roasted chicken on the crown with pan drippings and side garden vegetables or Salish mussels steamed in a light white wine, lemongrass and ginger broth are favourite pairings.

Vegetariano / Vegana
A variety of roasted vegetables with pistachio kale pesto sauce or a bright baby greens salad with roasted nuts and fresh berries.

Spec sheets for other vintages
Slideshow Items
A very expressive nose of fresh rose petal, cantaloupe, watermelon seeds and carnations. A lovely full body here with good structural definition. Daikon, waxy green beans and floral notes extend to the finish. A beauty of a bottle.

89 points

…The nose is an aromatic mix of floral, fennel, gooseberry and quince notes. The attack is weighty but juicy gooseberry, granny smith, orange and quince flavours. This is wonderful style for food and shellfish especially mussels would be a perfect match. Well done.

91 points

This is how a Pinot Grigio should taste – light and elegant with a footprint that does a balletic dance on the palate. The wine has aromas of pear, herbs and citrus, with flavours of citrus, apples and peaches. The finish is crisp, with lingering fruit flavours.