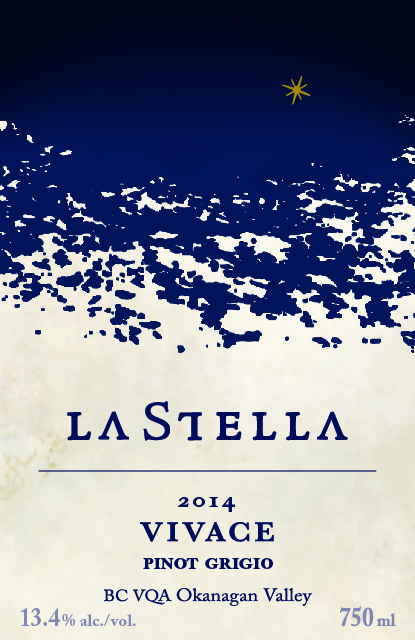 2014 Vivace Pinot Grigio
2014 was the second warmest year since 1998 for South Okanagan. 2014 vintage saw above to way above average summer temperatures, but September temperatures was lower than the last 3 years, hence pushing for better phenolic ripeness was not a concern or at risk of gaining high alcohol. Overall, 2014 vintage will be remembered as a very hot one and it had an impact on the yields: the tonnage we got were lower than the tonnage expected mostly because of thicker skins and smaller berried. The wines are concentrated with a very good ripe structure.
Our 2014 Pinot Grigio greets you with a very expressive nose of apple pear aromas, mountain herbs and Meyer lemon zest. The palate is packed with fruit cocktail flavours that enter the mouth in a concentrated fashion before they blossom into bright citrus and golden delicious apple notes. The low yields really show themselves again on the long finish. We joke around in the cellar and call Vivace a Grigio on steroids.
Di Carne
Seared west coast halibut with a brown butter lemon thyme sauce or roasted chicken on the crown with pan drippings and side garden vegetables or Salish mussels steamed in a light white wine, lemongrass and ginger broth are favourite pairings.

Vegetariano / Vegana
A variety of roasted vegetables with pistachio kale pesto sauce or a bright baby greens salad with roasted nuts and fresh berries.

Spec sheets for other vintages
Slideshow Items
90 pts

Perhaps it was the warm 2014 summer, or the lower than average yield, but this vintage of Vivace, with its gently concentrated, pure-fruited, finessed form, especially impresses. Wild desert herbs, orchard pear, fine lees and lemon zest roll across the textured palate, brightened by crisp green apple tartness and bitter white grapefruit pith. Fragrant melon, subtle meadow blossoms and stones linger on the finish. Lively, dry and elegant, this is a grown up grigio.

The 2014 Vivace Pinot Grigio is a wine that restores my faith in this grape. Made from the most planted grape variety in the Okanagan Valley, the La Stella winemaking team have made this in the Grigio fashion of alpine northern Italy, growing it at cooler sites, harvesting earlier, allowing zero skin contact, and keeping the working environment cooler. This is not a style that is seen in this part of the world where Grigio can be maligned. There's an old world grace in the subdued Bartlett pears that lead on the nose and the subtle spice on the finish, an encompassing yet delicate mouthfeel, and exquisite balance that makes this wine a stunner.

90 points

This expressive wine begins with aromas of spice, pears and citrus. On the palate, there are generous flavours of apple, pear and melon. The wine has a dry finish and good spine of minerality.