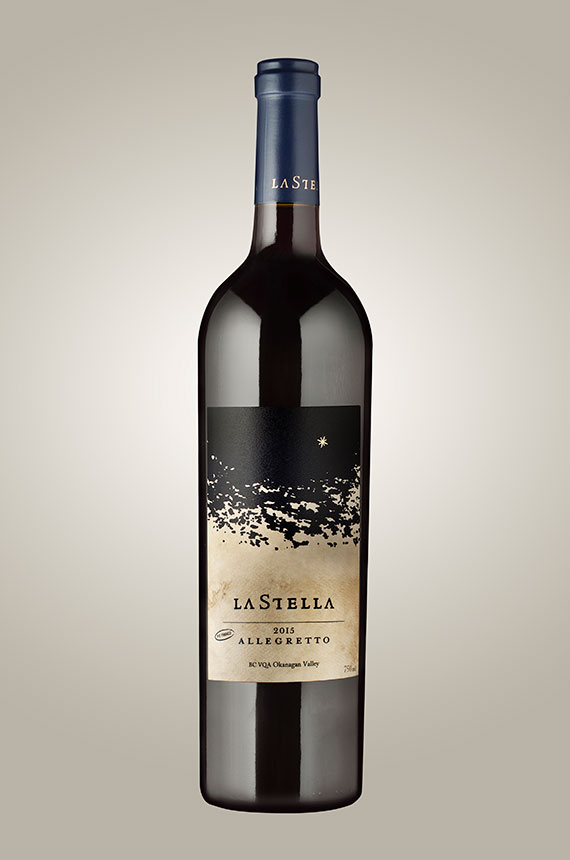 2015 Allegretto "Pie Franco" Merlot
Non-Wine Club Members won't be able to add this product to their cart.
We celebrate the fact that we make wine in a region where vintage variations play an important role. Atypical growing seasons are a nightmare for commercial wineries interested in making consistent but boring wines. For us, however, it defines our interest in wine. We look forward to seeing what Mother Nature gives us to work with each year. It is the effects of each vintage on the finished wine that urges us to start verticals of our favourite wines then follow their evolution and discuss their merits at tastings with friends.
Allegretto or a medium brisk and playful tempo is a very special single vineyard wine we call a true Merlot. The vines are planted on their own rootstock (pie franco) in white silica sand (what glass is made out of). Each and every vintage we are rewarded with trueness and transparency in the flavour that is not seen elsewhere. We also believe the white silica sandy soil of this vineyard contributes to the elegant style of this wine.
2015 Allegretto is a tad bigger structured with a medium+ body. A wine that caresses the palate as opposed to throwing punches. Integrated round tannins and a melange of red and black fruit approach you in poise. Raw Cacao nibs, sage leaves, rosemary, and wild mountain herbs mingle with the fruit and delicate dusty earthy notes. 2015 vintage as in the past continued to give us a special Merlot to be enjoyed in youth or after many years of cellaring.
Please note prices do not include applicable taxes or bottle deposit (PST 10% and GST 5%)
Di Carne
A classic bistecca alla fiorentina with Italian salsa verde, side of Tuscan white beans and charred radicchio or a pistachio-crusted filet mignon with garlic mashed potatoes and grilled vegetables.

Vegetariano / Vegano
Marinated cauliflower steak with mushroom jus or a hearty ratatouille.