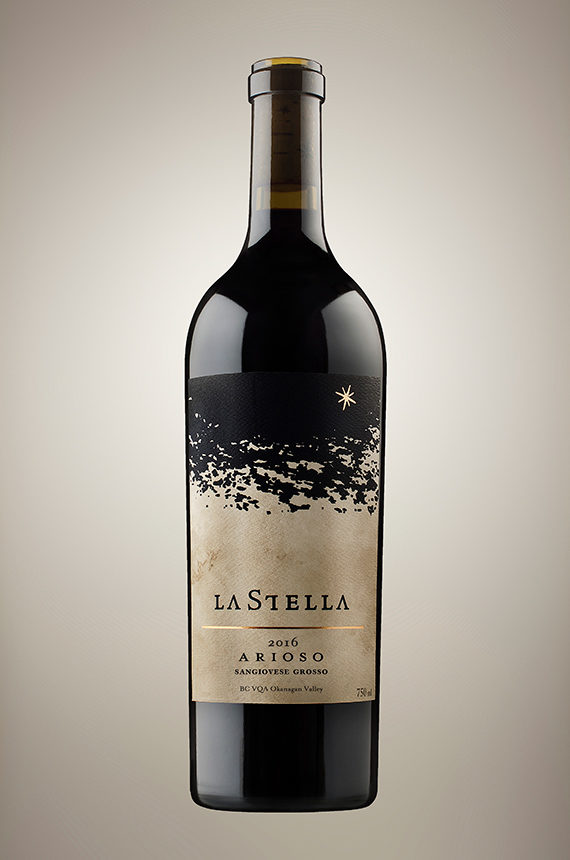 2016 Arioso
2016 marks only the third ever release of Arioso (a melodic solo performance). Arioso is a wine comprised of 100% Sangiovese Grosso (aka Brunello clone). A light coloured red that is medium-bodied, chiselled, elegant and confident.
Arioso excites the senses and reminds the beholder why Sangiovese is considered one of the noblest of all grape varieties. Notes of bing and red cherries greet you on the nose followed by rawhide leather, potpourri and wild desert flowers. On the palate, the wine is linear with outstanding tension of natural acidity and rustic tannins that demand food or extended cellar time to soften. Try a bottle on or shortly after release to satisfy your curiosity and then let the remainder of your bottles tucked away in the deep, dark, cold part of your cellar for half a decade-plus.
Tuscan wild boar stew or rabbit ragu over polenta are two of our favorite pairings.
Slideshow Items
91 points

Arioso comes from three different blocks in Osoyoos Lake District, and its heavy clay and gravels. It is only made in exemplary years; only 4 has been made since 2006. Sev has selected primarily the oval berried sangiovese clone (Grosso?), and fermented in open top fermenters before this is moved to neutral French puncheons for aging. 2016 is full of green olive tapenade, bright cherry, nubile leather, atop a clay base, and cut with crunchy acidity, and fine but firm tannins. Much fresher than the last incarnation, and one that drinks beautifully now (welcome pork loin or venison) but has time ahead.