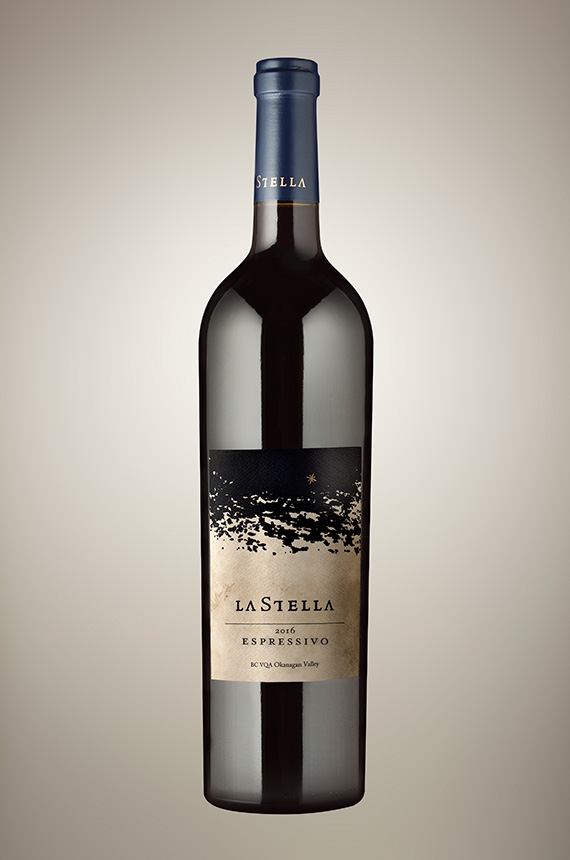 2016 Espressivo
After a few very warm summers 2016 was a return to a classic year.
2016 marks the third release of Espressivo – the newest member of the LaStella Family. A Tuscan-inspired red blend much like its sibling Fortissimo, except Espressivo, is Cabernet (Sauvignon and Franc) dominant while Fortissimo is Merlot dominant.
Espressivo is our way of paying respect to the pioneers of Tuscany who challenged the traditions of winemaking in the 50s and 60s to gain recognition for their wines.
2016 Espressivo is flat out gorgeous. While distinctly Okanagan, it can be a ringer in an all Super Tuscan tasting. The large format puncheons and Hungarian/Slavonian oak are evident in the subtle way the oak is present with whispers of baking spice nuances. The fruit profile is dark bramble and currant fruit, married with savoury, herbal and spicy notes. Compared to its sibling Fortissimo, the tannins here are edgier and the wine is more structured yet also more expressive on the nose. We look forward to following the evolution of this wine in the bottle for many years to come.
Di Carne
Swiss chard gnudi with lamb ragu, braised rabbit pappardelle pasta or confit duck leg with Tuscan beans.

Vegetariano / Vegano
Lentil pasta with braised tofu and mushrooms or cashew cheese lasagna with southern Italian peperonata.
Slideshow Items
92

Black currants and figs for days, this wine exudes class. Cola, dired fruits and ripe sweet tannins express intensity and quality throughout. Verging on long it finishes with a classic savoury twist. Bravo.

91

Deeply rendered and impressive, impressionistic red blend of Bordeaux varieties with a sixth or so of sangiovese in the mix. It's all here; fruit of three shades, acidity, sweetness from that fruit and pretty fine tannins. Long, fruitful, juicy and succulent. And yet never allows the wood to over-sheath, caress or shake the fruit. The breakdown is cabernet sauvignon (35 percent), cabernet franc (31), merlot (18) and sangiovese (16). Drink 2019-2024. Tasted blind at NWAC19, June 2019.