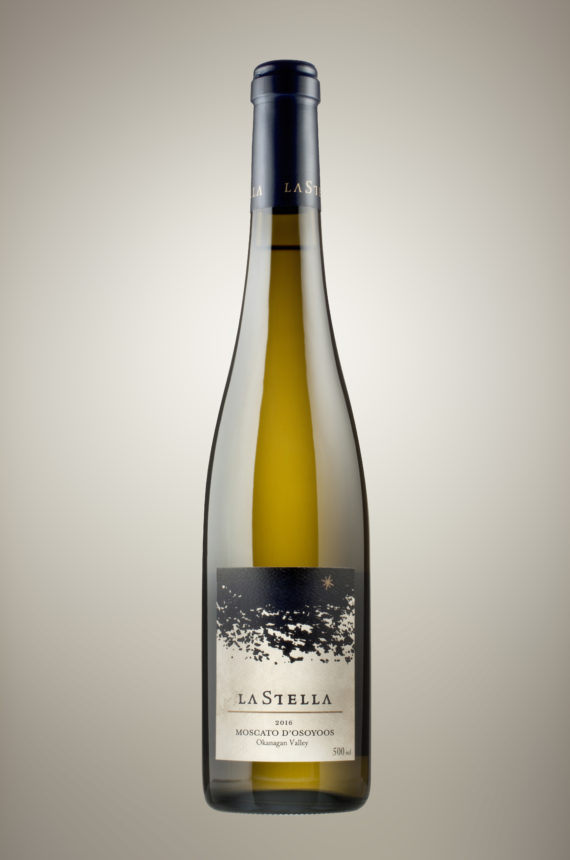 2016 Moscato d'Osoyoos
We celebrate the fact that we make wine in a region where vintage variations play an important role.  Typical growing seasons are a nightmare for commercial wineries interested in making consistent but boring wines. For us, however, it defines our interest in wine. We look forward to seeing what Mother Nature gives us to work with each year. It is the effects of each vintage on the finished wine that urges us to start verticals of our favourite wines then follow their evolution and discuss their merits at tastings with friends.
Inspired by the renowned Moscato d'Asti of the Piedmont region in Italy the Moscato d'Osoyoos expresses an intense and complex array of aromatics displaying this grape's true varietal expression. The light effervescence adds to the texture of this wine and showcases the classic Moscato flavours and perfumes of orange blossom, peach rind, rose petal and melon.
Please note prices do not include applicable taxes or bottle deposit (PST 10% and GST 5%)
Di Carne
With under 10% alc./vol. our moscato is a perfect aperitif, brunch or dessert wine. It can be enjoyed with a cheese board or a lightly spiced green fish curry well.

Vegetariano / Vegano
A bowl of lightly spiced vegetarian green curry or cajun-marinated tempeh.
Slideshow Items
90 points

It's hard not to marvel at this wine. While it's true that muscat almost always trumps terroir, LaStella has managed to bring a little bit of d'Asti to its d'Osoyoos, offering a stunningly elegant version of a pétillant bubble. They have gone back to cork to better adjust the gentle pressure in the bottle and they have got it right. You can expect an explosion of perfumed fruit with just a hint of effervescence. Orange blossoms, nectarine skin, rose petals and more all jump from the glass. At less than 10 percent alcohol by volume this wine is multidimensional. Think aperitif, dessert or brunch wine – the winery suggests you try it with green curry and fish. Sounds perfect.