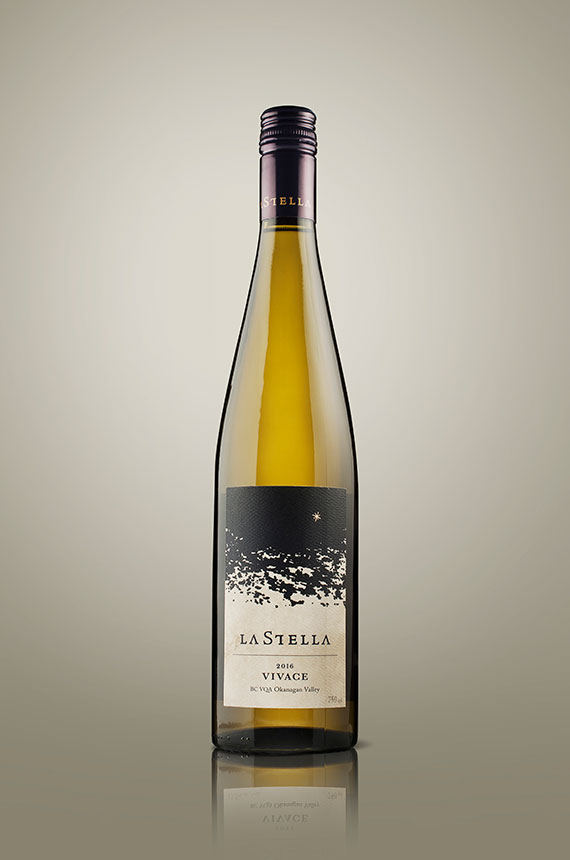 2016 Vivace Pinot Grigio
We celebrate the fact that we make wine in a region where vintage variations play an important role. Typical growing seasons are a nightmare for commercial wineries interested in making consistent but boring wines. For us, however, it defines our interest in wine. We look forward to seeing what Mother Nature gives us to work with each year. It is the effects of each vintage on the finished wine that urges us to start verticals of our favourite wines then follow their evolution and discuss their merits at tastings with friends.
Our 2016 Pinot Grigio hails from a classic growing season. Early picking and selection from cooler micro climates have given us a wine that is lively and chiselled. Vivace greets you on the nose with a very expressive note of Kalamansi, desert vegetation (sage) and lime zest. The palate is packed with fruit cocktail flavours that enter the mouth in a juicy and round fashion before they blossom into bright citrus and tart apple notes. The long finish carries on with intense citrus rind notes (Buddha's hand). A grigio on steroids.
Please note prices do not include applicable taxes or bottle deposit (PST 10% and GST 5%)
Di Carne
Seared west coast halibut with a brown butter lemon thyme sauce or roasted chicken on the crown with pan drippings and side garden vegetables or Salish mussels steamed in a light white wine, lemongrass and ginger broth are favourite pairings.

Vegetariano / Vegana
A variety of roasted vegetables with pistachio kale pesto sauce or a bright baby greens salad with roasted nuts and fresh berries.
Slideshow Items
Made with care, Pinot Grigio can be truly satisfying and flavourful, and this 2016 Vivace is a great example of what the grape can do in the Okanagan. Bright but not bland, fruity but not sweet, present on the palate without any heaviness, it finds a really great balance. Very enjoyable food wine, more than just a patio sipper.

PINOT GRIS MAY BE BC'S TOP WHITE, AND MOST VERSIONS HOLD TO A MORE ALSATIAN MODEL, BUT TRUE TO LA STELLA'S ITALIAN ORIENTATION THIS IS VERY MUCH A GRIGIO MODEL, WITH A LIGHT, ZESTY STYLE. THE NOSE SHOWS NICELY LIFTED LEMON, NECTARINE, GOOSEBERRY AND FRESH HERBS. IT IS VERY REFRESHING AND EDGY, SOMEWHAT BITTER ON THE FINISH. VERY GOOD INTENSITY AND BRIGHT. EXCELLENT LENGTH.

THIS, MY FIRST TASTE OF LA STELLA'S PINOT GRIGIO, IS MEMORABLE. FROM THE PALE GREYISH TINGE TO THE EFFUSIVE AROMATICS IN THE RIPE CITRUS AND FRESH ORCHARD FRUIT (APPLE, PEAR, WHITE PEACH) SPECTRUM, AND THE BALANCED, FLAVOURFUL PALATE, THIS IS SOLID WINE. THERE'S A PLEASANT BIT OF PHENOLIC GRIP AND ATTENDANT FAINT BITTERNESS, AS IS TYPICAL FOR THE VARIETY, WHICH SERVES AS A COUNTERPOINT TO RIPE FRUIT ALONGSIDE MORE THAN SUFFICIENT ACIDS. VERY GOOD LENGTH. DRINK OR HOLD SHORT TERM.

90 points

This is such an impressive bottle of pinot grigio. As lively and bright as its name suggests, Vivace is back to its tighter, leaner form in 2016. Early picked, the fruit is sourced from vineyards 16 to 30 years old along the Golden Mile, Naramata Bench and as far north as Peachland. It spends five months on its lees for a welcome slip of padding under a bone-dry frame. Asian pear, green melon, yellow apple, mandarin blossom with fine, zesty spicing on a snappy, bitter lemon finish. An ideal counterpart to simply steamed clams or grilled halibut, and a style I wish more BC wineries would follow.