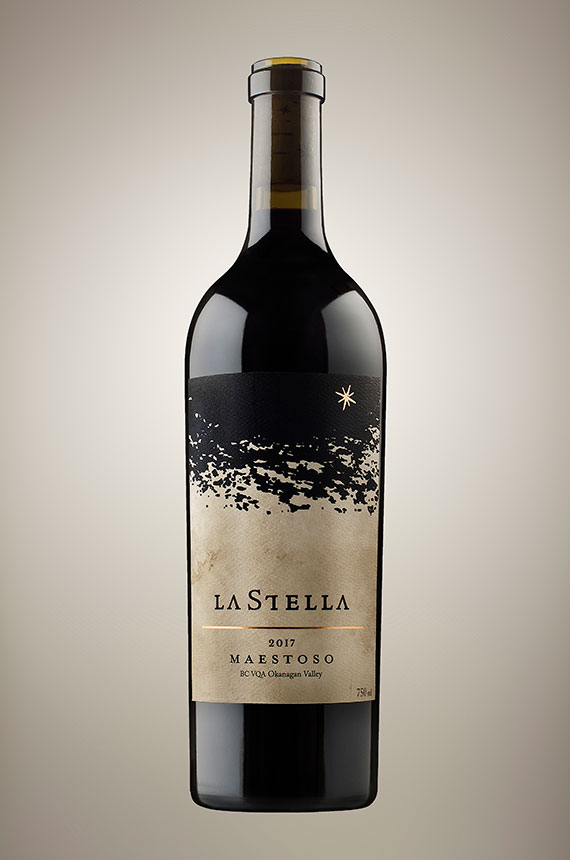 2017 Maestoso "Solo" Merlot
Maestoso is the highest peak in the crescendo, that moment of realizing you are in the presence of majesty. Maestoso is our flagship wine and the jewel in the crown of LaStella.
Silk Gloves come on, no expense is spared, and we pulled no punches. Maestoso is the reason we get out bed at the crack of dawn and continue the back breaking work till late in the evening.
Maestoso is always opaque in color and 2017 is no different. On the nose one finds pronounced notes of dark bramble fruit, coffee, black cherries, forest floor and vintage cigar box. Huge mouth coating velvety tannins leads through to an astonishing finish lasting well over a minute. The structure and acidity of the 2017 vintage means longer than normal aging requirement before the wine is settled down. A monumental wine indeed that restores wine lover's faith in Merlot. Even the biggest nay sayers will be wowed. We have done our part, now is your turn. Pick up a bottle and get to know Merlot done Maestoso style.
Di Carne
Maestoso demands the very best cuts of meat available: grass-fed rib eye steak or a tomahawk steak would do this wine justice. Simple preparations with a rich sauce will let the wine sparkle at its brightest.

Vegetariano / Vegano
Roasted celeriac risotto folded with a variety of wild mushrooms or marinated tofu steak with lemon garlic brussel sprouts & potato pave.
Slideshow Items
92 points

Maestoso Solo is the flagship label at La Stella, and it's 100 percent merlot. The majority of the fruit comes off the high terrace estate, Lumeno Vineyard, with the remainder coming off a site on Golden Mile Bench. It's showier than Equinoxe, thanks to a 20-month sleep in a mix of Slavonian and French barriques and puncheons, of which 58 percent were new. The oak is well done but plays into the style and, when combined with savoury aspects of the south Okanagan, plumps up the mid-palate, bursting with black plums and dense, dark cassis. The tannins are 2017 sturdy but not overpowering. You could take a run at this now but leave it five years and beyond for best results.

93 points. 4/5 Value

La Stella's 2017 Maestoso is a dark and sumptuous wine, fleshy but structured, firm but voluptuous, filling all crevices. The palate is awash in plummy black fruit, with generous shavings of integrated oak, lingering impressively on the finish. This is bold, broad concentrated red wine, designed to age; this should hold comfortably until the end of the century, a fine example of BC merlot, easily in the top echelon. Tasted January 2021.