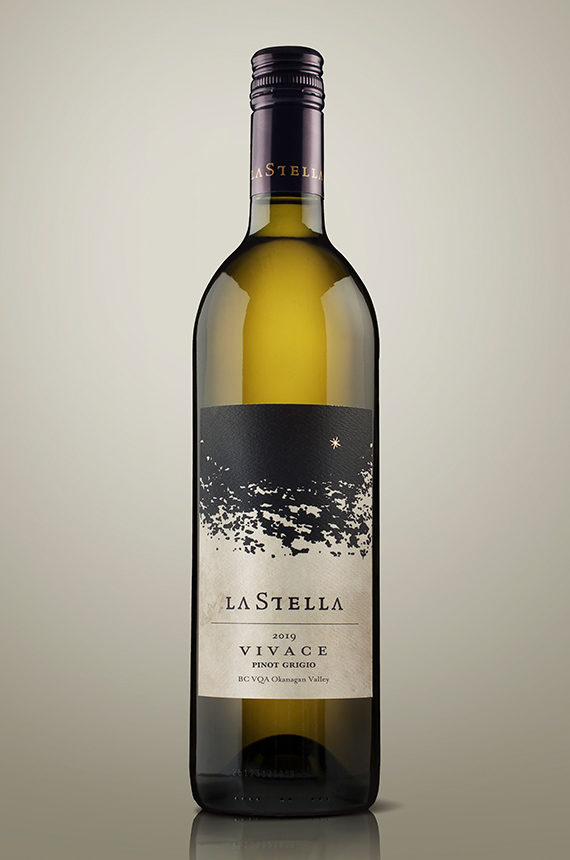 2019 Vivace Pinot Grigio
We celebrate the fact that we make wine in a region where vintage variations play an important role. Typical growing seasons are a nightmare for commercial wineries interested in making consistent but boring wines. For us, however, it defines our interest in wine. We look forward to seeing what Mother Nature gives us to work with each year. It is the effects of each vintage on the finished wine that urges us to start verticals of our favourite wines then follow their evolution and discuss their merits at tastings with friends.
Careful canopy management, early picking, and selection from cooler microclimates has given us a wine with low alcohol % but one that is lively, full and chiseled. Vivace greets you on the nose with a very expressive note of bergamot rind, desert vegetation (sage) and lime juice. The palate is packed with a melange of citrus fruit before it finishes with tart apple and zest notes. The long finish carries on way beyond what many come to expect from this humble but noble grape variety. Vivace is Grigio gone to CrossFit.
Please note prices do not include applicable taxes or bottle deposit (PST 10% and GST 5%)
Di Carne
Seared west coast halibut with a brown butter lemon thyme sauce or roasted chicken on the crown with pan drippings and side garden vegetables or Salish mussels steamed in a light white wine, lemongrass and ginger broth are favourite pairings.

Vegetariano / Vegana
A variety of roasted vegetables with pistachio kale pesto sauce or a bright baby greens salad with roasted nuts and fresh berries.
Slideshow Items
91 points

A wine should live up to its name and La Stella's Vivace succeeds. In the great sea of pinot grigio ubiquity there can be some with a distinct energy that roll across the palate in waves. This is such a heart breaker, a "lively" PG that seems so much bigger and of more alcohol volume than it really is. The density of fruit and the balanced relationship with a thickness of acidity is how the breakers are developed, far out to sea and only realized just as they approach the shore. This will tumble over you with sudden haste and find you swimming in its juiciness, albeit a metallic oneand as with the best of northeastern Italy, unctuous to an Adriatic degree. Great fruit and winemaking heed are what make this happen. Drink 2020-2023.

91 Points

Value: 5/5

The best Vivace yet manages to feel light and airy in the best expression of Italian pinot grigio, yet there is richness of flavour suggesting B.C./Alsace ripeness as well. It's hard balance to strike, but done with a sure hand by winemaker Severine Pinte. Expect fairly generous aromas of peach pit, soft dried herbs and croutons. It is light to medium bodied (12.6%) with fine lacy acidity and a vague spritz intrinsic to its liveliness. The flavour depth/length is better than expected, the balance is close to perfect.

"… Delicious in the mouth! Severine does it again! 2019 Vivace is a citrusy wonder with basil, sage and parsley Italian, natch), with juicy acidity, a dab of marmalade and a hint of beeswax texture. The Variety can be so much more charismatic than a critical consensus often suggests. I give you exhibit A.