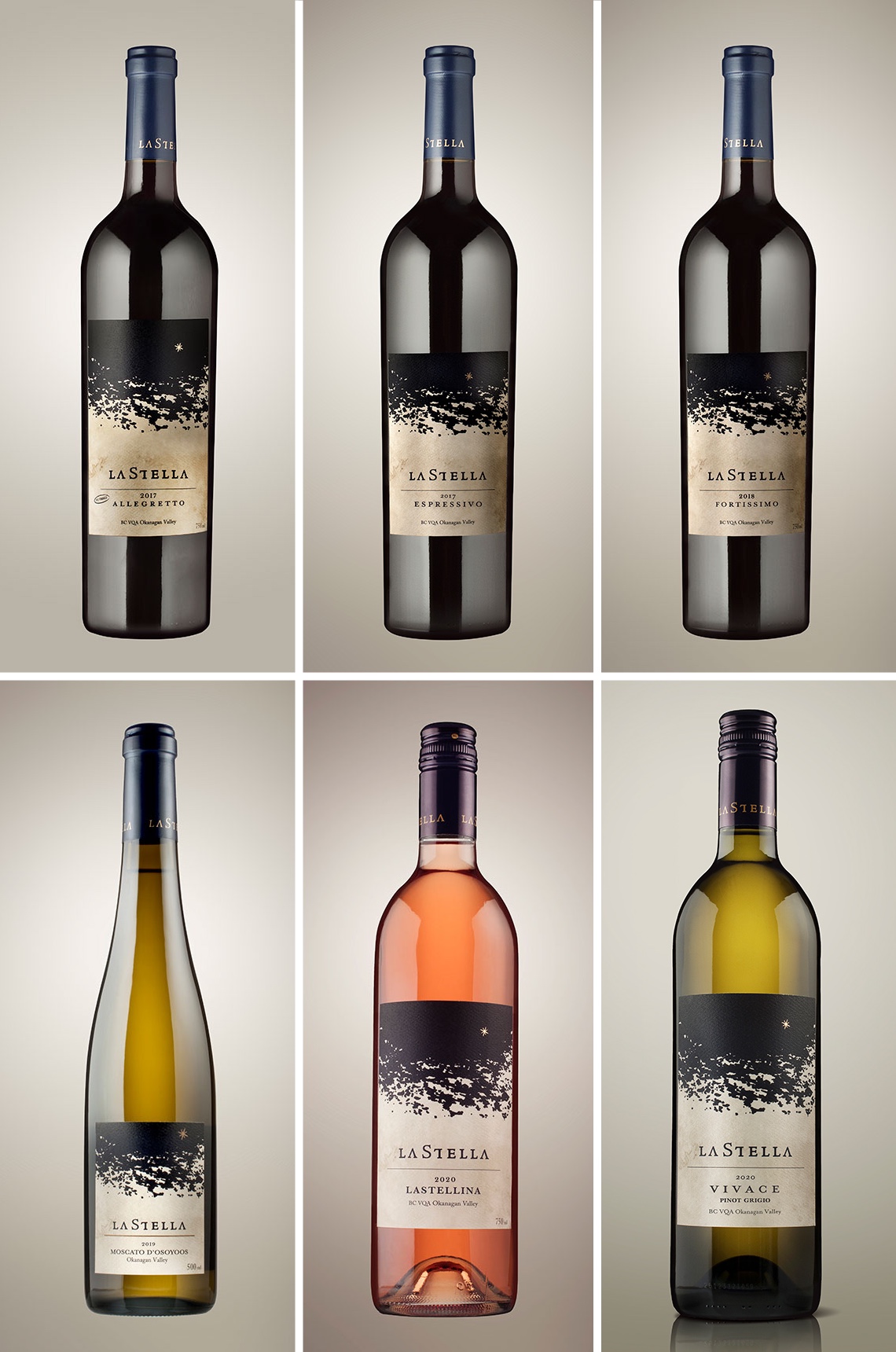 LaStella Discovery 6 Pack
The winemaking at LaStella can be described as a symphony of the senses. To best way to discover our wines is through this 6 pack which includes: 1x 2020 Vivace, 1x 2020 LaStellina, 1x 2019, 1x 2020 Moscato, 1x 2018 Fortissimo, 1x 2017 Espressivo, 1x 2017 Allegretto Pie Franco Merlot.
Slideshow Items
93 points. 4/5 value value

Being asked to imagine "your bare feet in warm sand" is a blessed opening gambit for a slower than Allegro Okanagan Valley merlot. The phrase "piè franco" is invoked and with thanks to Italian wine scholar Jeremy Parzen, "in Italian wine parlance denotes ungrafted rootstock and is often employed to designate wines made from ungrafted, pre-phylloxera vines, like the Cappellano Barolo Piè Franco. It is akin, although not derived from, the French franc de pied." This 2017 piece performed in that soil to vine movement is beautifully and dutifully paced, a deeply resonant, firm and earthbound red with both feet squarely, if magically anchored in white silica sand. You can taste the controlled lightning, a flash of metalliferous virtuoso and the "campo franco," or free field form of a vineyard-tethered merlot. The potential here is great. The lingua franca notated speaks to B.C. and to La Stella's style. Also worth noting, once again with a nod to JP, that one of the earliest instances of Piè is found in the humanist poet Politian, a.k.a Poliziano, who was from Montepulciano. This Allegretto is very reminiscent of merlot produced in the southern Tuscan appellation. A curious reference point, if only for a fleeting, piè franco moment. Drink 2021-2028. Tasted January 2021.

Such a wine. 30ish year old own rooted [pie franco] vines in white silica sand. Canada's top merlot, yet again.

90 points

A rare merlot grown on its own roots ("pie franco"), the 2017 Allegretto is a fleshy, firm, well-structured, perfumed example, which will take some time in the decanter (or time in the cellar) to really show its best. I like the grainy tannic structure, a little more finessed than the mean for Okanagan merlot, but certainly more firm than most international paradigms. Fruit is appropriately dark, ripe and plummy, also with some roasted vegetal-herbal notes in the varietal idiom, with very good length. It will be a little severe for some, but I like the more old world structure. Best after 2022.