The cherry blossoms are out in Vancouver, spring is in the air, and at the winery many new wines have been bottled. It seems as though it's a fresh new start. And the perfect way to celebrate Spring, was joining our new friends at Kinfolk at their local community gathering called "Beneath the Surface" a few weeks ago. Hosted by Victory Gardens & Here There, the aim of this gathering was to celebrate the best local purveyors (that don't always put themselves in the forefront) in the city over food and good conversation.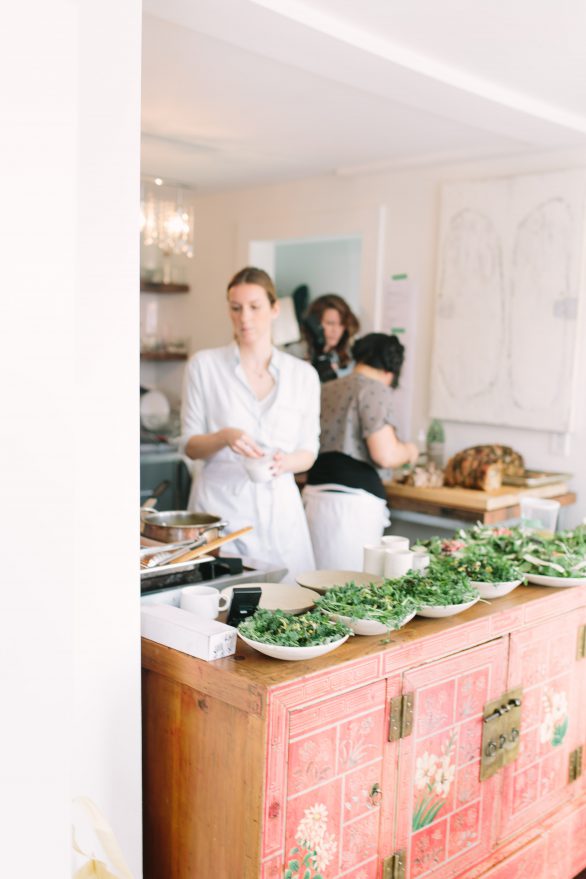 We were happy to pour and share our LaStellina Rosato and Fortissimo at the event along with these fine companies: Glory Juice, Duchesse Vintage, 05 Teas, Elysian Coffee, Bon Accord, Lissu, Le Marche St. George, Celsia Floral and Janaki Larsen Ceramics.
What a great event at Le Marche St. George. A sunny afternoon, beautiful decor, welcoming space,
and a warm group of people.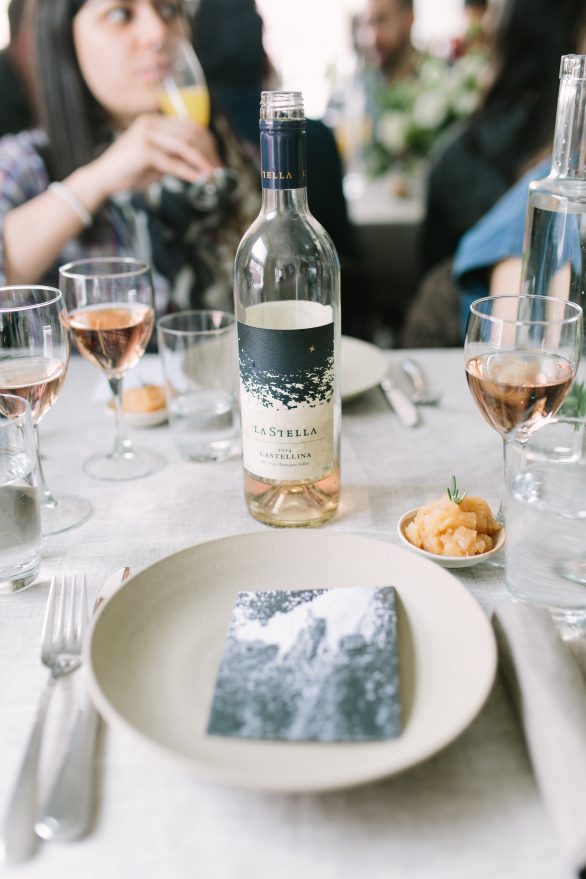 What is Kinfolk? Kinfolk is an independent, slow lifestyle magazine, published by Ouur that explores ways for readers to simplify their lives, cultivate community and spend moe time with friends and family. Based out of Portland, Oregon, is very popular around the world, especially in Scandinavia and the Pacific Northwest.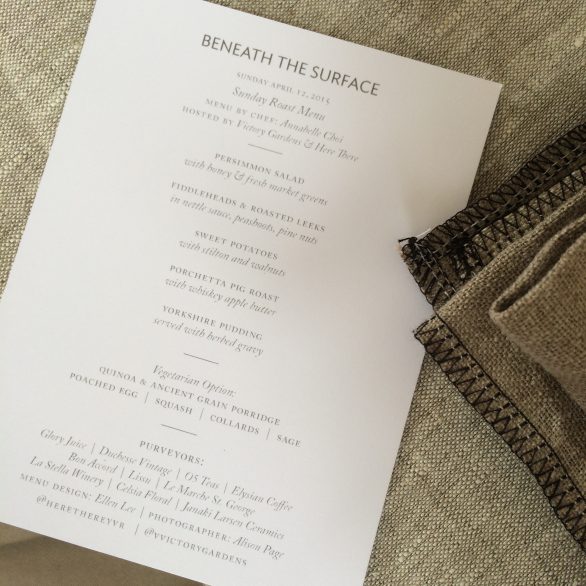 The menu was outstanding, but among the courses, this was one of our favourites
that delighted every sense
and paired so deliciously with our newly released LaStellina Rosato.
Rhubarb Chestnut & Honey Market Salad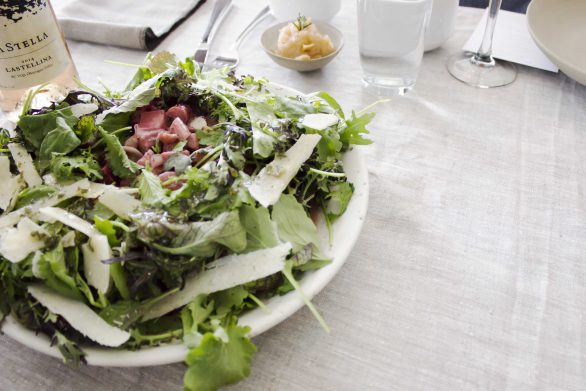 photo credit: Christy Evelyn
Recipe by Chef Annabelle Choi of www.annabellechoistudio.com
~~~
DRESSING
1/2 cup/100ml unfiltered sunflower oil, or a mixture of sunflower & hazelnut/walnut oils
5 tbsp/75ml fresh lemon juice
2 tbsp fermented honey or honey
1 1/2 tbsp rice vinegar
1 1/2 tsp each minced fresh marjoram, thyme, & sage
1 1/2 tsp kosher salt
1 tsp ground black pepper
 ~~~
SALAD
12oz/320g fresh market greens, such as arugula, mustard greens, pak choi, radicchio, endive, pea shoots
1 fennel bulb, halved, cored, & thinly sliced
2 cups of chopped rhubarb
1 1/2 tsp each rosemary
2 tbsp unsalted butter
2 garlic cloves, crushed & minced
1/2 cup roasted & peeled chestnuts
4oz/115g Parmesan or other dry-aged cheese kosher salt & ground black pepper to season
 ~~~
TO MAKE THE DRESSING:
In a small bowl, combine oils, lemon juice, honey, vinegar, marjoram, thyme, sage, salt, and pepper and whisk to combine. The dressing can be made up to 1 week in advance and stored in an airtight container in the refrigerator.                             Shake well before using.
~~~
TO MAKE THE SALAD:
In a medium sauce pan, melt butter and minced garlic until butter is foaming. Add chopped rhubarb and rosemary in  melted butter, saute just till the rhubarb starts to soften but has not become mushy, set aside. In a large bowl, toss sliced fennel, rhubarb, and chestnuts together, seasoning just a couple of spoonfuls of dressing. Plate up rhubarb and fennel mixture in the center of a serving platter, surrounding the mixture with prepped greens. Just before serving, drizzle dressing over greens, topping dish with shaved pieces of cheese. Season with a little bit of salt and pepper. This salad is best eaten immediately.
~~~
To keep up today with what we are up to, join our newsletter!