While we might not have the same history or tradition in winemaking like they do in Tuscany, we have an incredible opportunity to learn from them, while still paving our own way as a young wine-growing region. Other places in the world have real limitations on what they can grow, but here in BC we have the opportunity to experiment with different grape varieties and styles.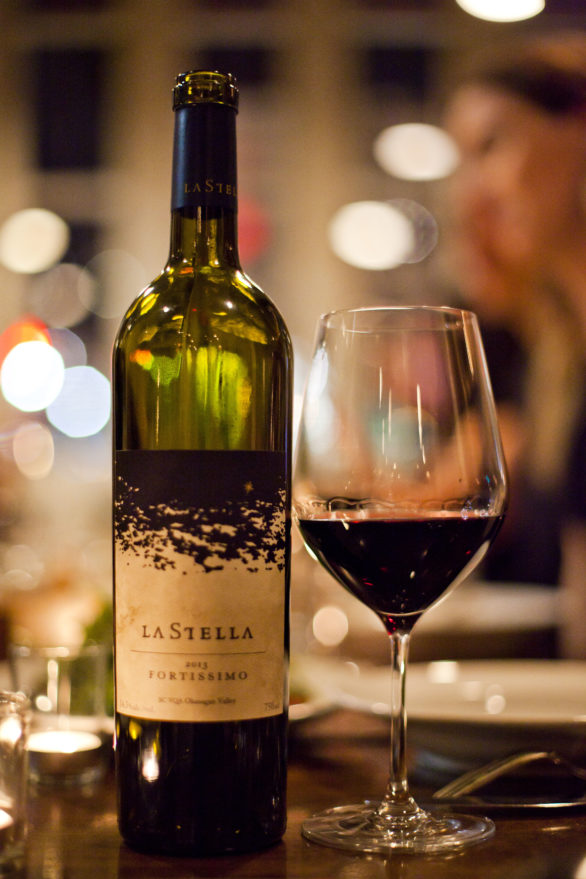 La Stella is inspired by the Italian way of life, and the Fortissimo is their way of paying respect to the pioneers of Tuscany who challenged the traditions of winemaking back in the 50s and 60s.
La Stella is nestled on Osoyoos Lake and has 8 vineyards scattered throughout the South Okanagan. Each of their unique expressions of terroir lend a layer of complexity to the blend. This Super-Tuscan inspired blend is made up of Merlot, Cabernet Sauvignon, Cabernet Franc, and Sangiovese. The wine is aged in large format Hungarian, Slavonian and French oak for 16 months.
While Sangiovese is the smallest component of the blend, its flavours are noticeably present, lending notes of sour cherry, tobacco, tomato, and coffee bean. The Merlot brings a luscious mouthfeel with plum and chocolate, and the Cabernets add dark fruit concentration, with herbaceous notes and florality to the blend.
The combination of hot days and cool nights produces fruit with the perfect BC balance – exceptional flavour concentration as well as vibrant acidity. The mineral and savoury notes, alongside the fine-grained tannin structure makes this wine an exceptional food wine. There is a famous Italian saying that remains the Golden Rule of food and wine pairing – "what grows together, goes together". In celebration of this philosophy, turn to something Italian! It is better to match the wine with the sauce than with the meat, so I might suggest a pasta dish with a tomato sauce. The acidity from the Sangiovese will add a mouth-watering quality that will keep you wanting more!
————————————————————————————————–
Kristi Linneboe is a Vancouver-based Sommelier and WSET Diploma student who embraces Mother Nature and all things outdoors. She was born and raised in Ottawa, but has been proud to call Vancouver home for the last 13 years. After graduating from Simon University with a degree in Communications and International Relations, Kristi began her wine studies and made a commitment to the hospitality industry. A wine buying position at Maenam Restaurant is where she first discovered the magic of food and wine paired together, and her role as the Wine Director at L'Abattoir allowed her to focus on France and Italy, while still celebrating the Pacific Northwest.
Kristi loves to learn, taste, and travel. Her wine travels have taken her to Portugal, Australia, Oregon, Italy, France, and California, but there are many wine growing regions across the globe that continue to be at the top of her list.  
Kristi most recently spent 6 months in the Okanagan Valley, where she was a part of the 2020 harvest team at Tantalus Vineyards. What better way to truly understand viticulture and the winemaking process than to discover it first-hand!
Beyond her commitments in the restaurant and winery scene, Kristi continues to be involved in her local community through volunteer and contribution to the BCHF (British Columbia Hospitality Foundation), Top Drop Vancouver, CAPS (Canadian Association of Professional Sommeliers), VIWF (Vancouver International Wine Festival), BCWI (BC Wine Institute), as well as tasting groups, mentorship programs, and wine events throughout the year.