We wait patiently every year for this season to arrive – Spot Prawns! Only available for 6-8 weeks every year starting in May, they are sustainably caught off the west coast of Vancouver, and mostly consumed within the local market. The cost and short term availability of these prawns is worth it once you've had a taste of them. They are sweet and succulent, often described as being in between the flavour of crab and lobster. They are also very soft in texture so they don't require heavy sauces or marinades to accompany them, they need the simplest preparation to enjoy them.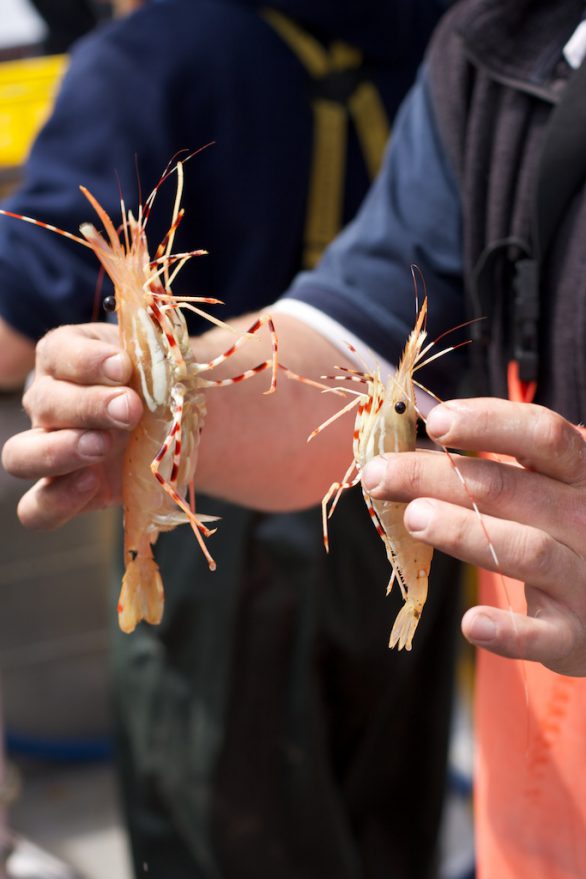 photo courtesy of http://spotprawnfestival.com 
And with every good meal you need an extra special wine to match! Try our flagship white 2014 LaStella 'Vivace' Pinot Grigio. A Grigio on steroids as we like to call it. Read here to learn more about why this wine is so very special.
With notes of citrus rind, stone fruits and minerals, the terrific acidity of this wine will balance with the sweet, buttery and juicy prawns perfectly. Plus, a sip after each bite, will refresh your palate so the next bite is as exciting as the first!
~
Here are some preparation tips for enjoying Spot Prawns…
1. Keep the heads on if you plan on cooking them right away on the grill, otherwise remove the heads from the spot prawns, as they will release an enzyme that will deteriorate the meat the longer the heads remain attached.
2. Rinse thoroughly and keep refrigerated until you are ready to cook them (up to 3 days), if kept very cold.
3. When you are ready, remove the shell and tail or if you are grilling them keep the shell and tail on.
4. If you are pan frying the meat, be careful not to over cook them –  1-2 minutes per side should suffice! Don't forget that with any meat it will continue to cook once removed from the heat source.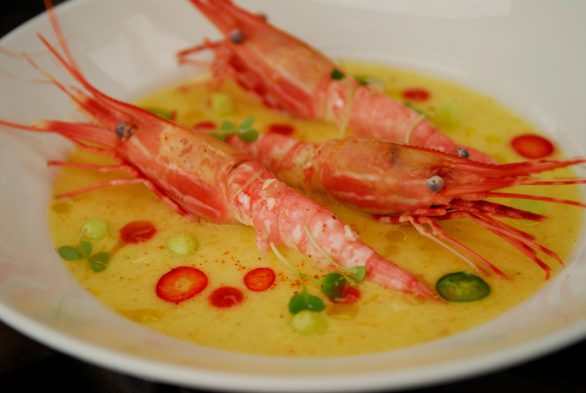 photo courtesy of http://spotprawnfestival.com 
Here's a great recipe to try…
Sauteed Garlic Spot Prawns
Lee Humphries, chef de cuisine of former C restaurant
~
24 prawns, live and whole
8 ounces (244 grams) of butter, unsalted
4 jalapenos, sliced, seeds removed
8 cloves of garlic, sliced thinly
12 tbsp (180 mL) of chopped parsley
12 tbsp (180 mL) of sliced preserved lemon
Salt and pepper, to season
8 ounces white wine
4 tsp (20 mL) of olive oil
In a hot sauté pan, add a little olive oil. Add prawns and butter. Sauté quickly.
Add remaining ingredients and deglaze with white wine. Season to taste. Plate and garnish with microgreens.
Twist, peel and enjoy.
Serves 4
~
For more Spot Prawn Recipes:
attend an event or check out the recipes at Prawnfest.ca in Cowichan Bay on Thursday May 14 – Sunday May 17
attend or check out the recipes at 2015 Spot Prawn Festival in Vancouver on Sunday May 17th.