Another great review of our Tuscan inspired red blend Fortissimo by Timo at Wineshout – who has a stupendous palate!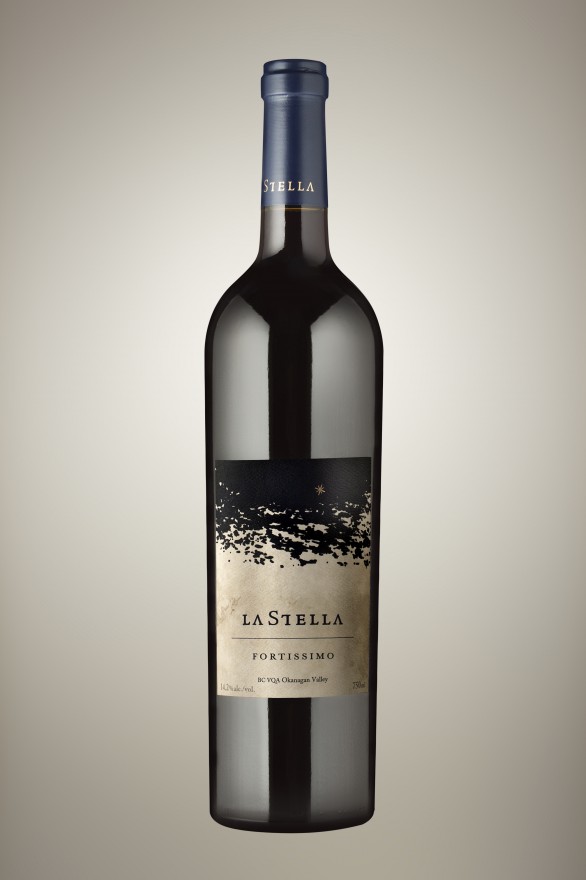 "La Stella Winery in Canada's Okanagan Valley has made Fortissimo with the pioneering Tuscan winemakers of the 50s and 60s in mind. A blend dominated by Merlot, with Cabernet Sauvignon and Franc, it also includes Sangiovese, a notable grape in Tuscan wine and one that is rarely grown in the Pacific Northwest.
2011 was a generous vintage to the winemaker, with its long and cool growing season, and fall weather that allowed for a lengthy picking period. The juice then spent 18 months in both French and Slavonian oak.
Once out of the bottle, we decanted for approx 2 hours, which we recommend to open 'er up.
So let's take it for a swirl…
The wine that made it into our glass was of a fairly deep ruby colour.
On the nose, there's a perfumey Lilac, winter spices, especially cinnamon, and a hint of smokiness.
On the palate, cherry and raspberry mingle with blackberry, and earthy, dusty flavors that are such a welcome component in North American wine.
The tannins are amazing, dancing on the front of your tongue, powerful without being overbearing. There's a dryness that is so rustic and old world that one can't help but think of the rolling hills and olive tree gardens (had to be careful there to add the 'tree').
With old world style, Fortissimo and food go hand in hand. After tasting solo, we paired with beef off the grill, and the results were mouthwatering to say the least. Classic red meat dishes pair well. The next time you're thinking of Chianti in Canada, why not think closer to home, Fortissimo." Wineshout ( www.wineshout.com )