It's very nice when fellow wine drinkers enjoy a wine so much they want to share it with everyone. We like that way of thinking, as much as we love our wines and the love we put into them. So it should be no surprise that we want to share a recent post by Christine (local wine blogger) from Girls Go Grape.com especially when she gives us her "hell yes" vote!
Enjoy her review, and support another great local wine blogger by visiting her website.
"Hello wine lovers and happy wine Wednesday!  I hope the sunshine is finding you and giving you hope, like it does me, that the warm weather is just around the corner…
It was a good week for your Girls Go Grape blogger –  I ended a 16-year chapter of my life in the advertising and publishing industry only to have a meeting immediately prior to 'handing in my phone' with a great contact who has a potential business partnership opportunity for me.  Yay!  More to come – still in the early meeting stages but I am flattered nonetheless.  Then, the week got even better!  I had sent an email to the BC Wine Authority letting them know who I am and asked what their process is around becoming a VQA Wine Quality Assessor (a volunteer position that is responsible for ensuring BC VQA wine quality and reputation).  As luck would have it, I met their qualifications and there was one spot available for their two weekend workshop that is the mandatory first step.  So – I am off to the Okanagan this weekend and the next to learn all about wine 'faults' and how to very specifically identify these faults in wine.  I am still kind of pinching myself at the timing of everything…yes – one door closes and many others open up.
On to the wine of the week…I was in the mood for a big red wine so I went downstairs and selected La Stella's 'Fortissimo' 2008 from Osoyoos, B.C.  I had purchased this bottle of wine last October when I went up to the Okanagan Wine Festival.  I was hosted by the wonderful Mike Kosaka and Wade Martin and joined in a flight tasting that had just started.  Pretty much everything I tasted at La Stella blew me away and the experience was excellent.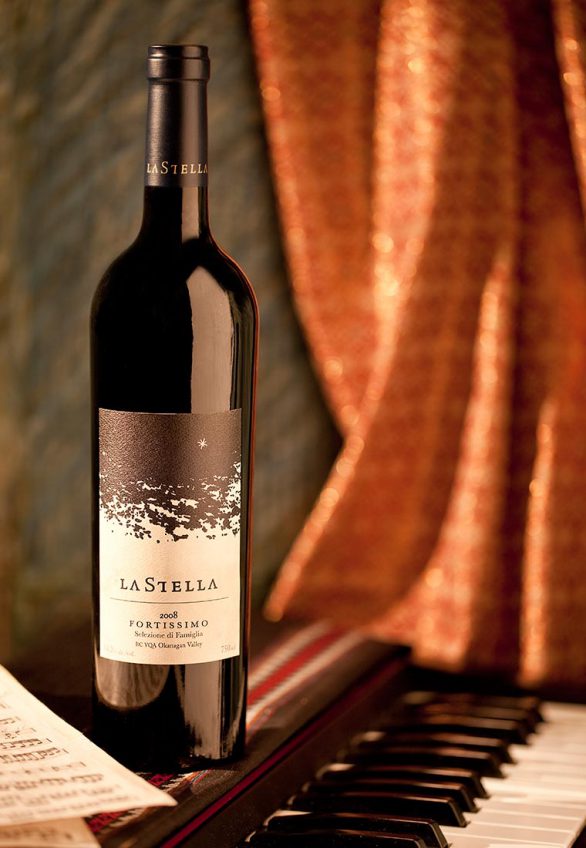 The 'Fortissimo' was my favourite in the flight.  It is a 'Super Tuscan' blend of Merlot, Cabernet Sauvignon, Cabernet Franc and Sangiovese…delicious.  In the glass, La Stella's 2008 'Fortissimo' is a deep, vibrant ruby-red colour.  On the nose, aromas of dusty earth, oregano and dried herbs, cherry, raspberry, some delicate oak and sweet spice.  I could have kept smelling this glass of wine for hours!  On the palate, 'Fortissimo' has a pronounced flavour profile with tastes of all the aromas in the glass – truly an exceptional flavour with elegance and complexity.
La Stella's 'Fortissimo' is medium plus in alcohol at 14.2% abv. and medium plus in body.  The tannins are well-integrated and refined and the wine has a nice, bright acidity that I love in a red…thank you, Sangiovese!  This lovely wine has a long, lingering finish and is a beautiful expression of a 'Super Tuscan' wine from La Stella.  This is a 'Hell Yes' wine – absolutely!
The 'Fortissimo' 2011 from La Stella has just been released at $35 per bottle.  A great bottle of wine you can enjoy now or put down for the next 3 – 5 years.
That is it for me this week!  I look forward to giving you some fun details about my first 'tasting' workshop this weekend in next weeks' blog post.  As always, I welcome wine questions – so don't hesitate to ask!" Girls Go Grape | Christine